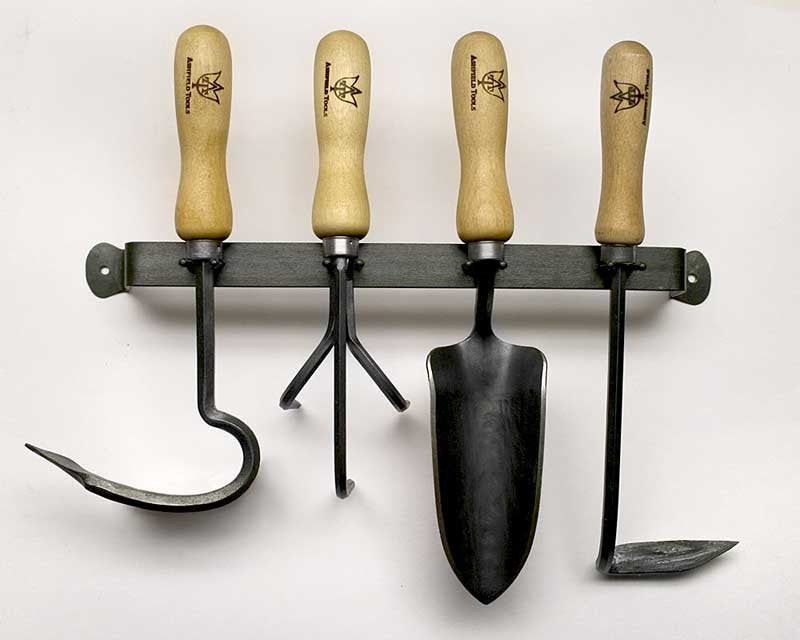 Ashfield Tools
Garden Tool Rack with Harrow, Cultivator, Trowel & Weeder.
Item Number: AFW-4RACKSET
---
This set contains our most popular tools along with a great way to store them or show them off!

Ashfield Tools are high quality, sturdy and long lasting. They are designed to work well and enhance the gardening experience. Each tool is hand forged using traditional blacksmithing techniques. The birch handles are made in Maine.

Our Cultivator is often used to break up the surface of the soil to keep it loose. It can also be used to work in fertilizer or organic material and compost. The width across the spread of the tines is approximately 2 3/4". The overall length of the tool is approximately 10 1/4"

Our Harrow can penetrate deep to loosen compacted soil. It can break up trampled areas, re-work the center of a row before planting, or loosen the area around a transplant to allow the roots to spread. The width at the curved end is approximately 5 1/2". The overall tool length is approximately 10. 3/4".

Our Trowel features a blade forged from 400 series cutlery grade stainless steel with sharpened edges and an end that is tapered to a sturdy point. The result is a highly effective yet nearly indestructible tool. The sharpened edges cut through soil and small roots while the rugged shank lets you pry without bending the handle. The blade is approximately 2 3/4" x 6". The overall tool length is approximately 12 1/2".

Our Weeder is designed to cut through weeds at or just below the surface. Pull the sharpened blade under the surface of the soil to mow down small weeds. For large, well established weeds, jab the sturdy point into the soil, pull around the weed to undercut it, and lift it out. The blade is approximately 3/4" x 3". The overall tool length is approximately 12".

Our Racks are hand forged from mild steel. They have the same brushed and oiled finish as our tools. Black screws are provided. This Rack is approximately 15" wide, 3" deep, 1 1/4" tall.
---
Share this Product
---
More from this collection