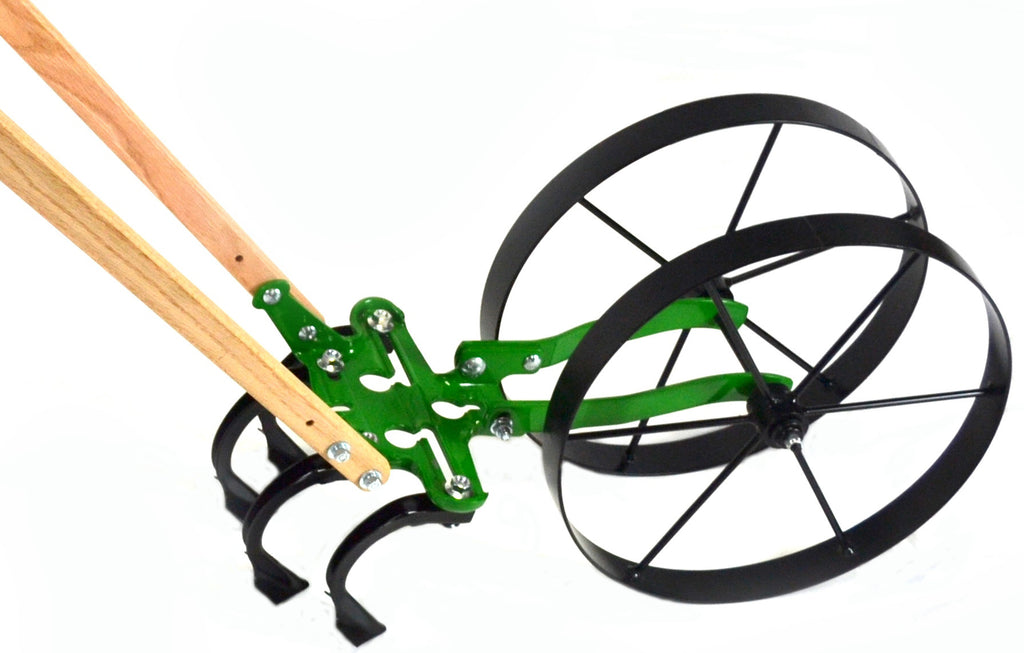 Hoss Tools
Double Wheel Garden Cultivator with Standard Handles
Item Number: LDW406
---
The Hoss Double Wheel Hoe is the preferred garden tool of market farmers and backyard vegetable growers. This double-wheeled version of the Hoss Wheel Hoe gives you added stability and also allows for straddling a row when plants are small, so that you can work both sides of the row in one pass. It is an eco-friendly solution to cultivating and weeding your garden that works in areas where a tractor or motorized tiller can't. Use it in your hoop house or high-tunnel greenhouse to keep your row paths cultivated and weed free.
Our Wheel Hoes require less space between rows to operate, allowing you to utilize your garden space more effectively and grow the most possible food you can! All of our Wheel Hoes are made with powder-coated 15" steel wheels and a 1/4" steel tool bar where you can attach our wide selection of Wheel Hoe Attachments. Our Plow Set attached to the Wheel Hoe makes easy work of planting potatoes by allowing you to dig a furrow and cover the planted potatoes.
Includes set of 4 Cultivator Teeth
Hoss Double Wheel Hoe Options
Amish-crafted, hardwood handles are available in Steam Bent and Pistol Grip models.
The Double Wheel Hoe can be quickly converted into a Single Wheel Hoe using ourshoulder Boltaccessory.
---
Share this Product
---
More from this collection